WE TACKLE JOBS OTHERS SAY CAN'T BE DONE!
SPARTAN INDUSTRIES PROVIDES RAPID AND RELIABLE SERVICE IN REBUILDING AND RECONDITIONING WORN, OLD OR OBSOLETE EQUIPMENT, WITH MOST PARTS HAVING CLOSER TOLERANCES AND LONGER LIFE THAN THE ORIGINAL.
Get a quote!
Spartan Industries
Specializing in Restoring Worn Dimensions and Finishes
Spartan Industries provides rapid and reliable service in rebuilding and reconditioning worn, old or obsolete equipment, with most parts having closer tolerances and longer life than the original. High tech surface finishes, plating and coatings assure longer life and superior performance. Step by step, our quality control assure that nicked, dented or worn parts are rebuilt better than new.
Hard Chrome Plating
Precision Grinding & Polishing
Hydraulic Pump Repair
Industries
Our quality and services has made us the supplier of choice for the following industries:
Textile Machinery
Pulp and Paper Mills
Heavy Equipment
Automotive
Steel
Hydraulics
Food Packaging
Industrial Pumps
Custom Machinery
Plastics
Chemicals
Tire and Rubber
Hard Chrome Plating
Hard chrome plating provides the hardness, wear resistance, and corrosion resistance required for many components subjected to harsh and dynamic operating conditions. For this reason, hard chrome plating is the ideal surface finish for parts that are subject to friction, sliding wear, galling, seizing, high temperatures, and many corrosive environments.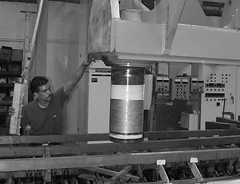 Hard chrome plated parts typically outlast un-plated parts by a factor of 5 to 1, providing significant savings in replacement costs, time and labor.
FEATURING ONE OF THE NATION'S LARGEST HARD CHROME PLATING TANKS!!!
Spartan Industries features one of the largest hard chrome plating tanks in the nation, allowing us to easily plate parts horizontally up to 60 feet in length and vertically up to 17 feet in length.
Precision Grinding & Polishing
Spartan Industries offers complete grinding and polishing services to meet all of your surface finishing needs. Our services include:
Internal (ID) Grinding
External (OD) Grinding
Contact Belt Grinding
Polishing
Honing
Lapping
Mirror and Matte Finishes and more...
Hydraulic Pump Repair
Spartan Industries features complete facilities for repairing, remanufacturing, and testing hydraulic pumps. Our highly trained technicians can restore a pump to perfect working order for a fraction of the replacement cost.
Our 400 hp test stand allows us to test and fine tune your hydraulic pump before returning it to you, eliminating costly down time and field adjustments.